Hey, Experts on the Wire listeners!
We're Stacker Studio. We're here to help you earn high-quality links at scale through newsworthy storytelling. 👋
1. We create content on your behalf.
Our newsroom comes up with a list of story ideas that are relevant to your vertical and interesting to our publishing partners.

Then, our editorial team uses data and manual research to create compelling news stories likely to earn hundreds of pickups.
2. We distribute the stories through our proprietary newswire.
We send the stories we create on your behalf to the 2,500+ news publishers in our network, including Chicago Tribune, SFGate, MSN, Houston Chronicle, and more.

On average, each story earns 150-200 pickups (and the dofollow link equity that comes along with them).
3. We report on the results.
First we collect all of the earned media coverage and dofollow links. Then we keep track of your domain authority increases, keyword improvements, and organic traffic lifts over the coming months.

We work with partners who understand the long-term value of this work, and we love being part of their growth.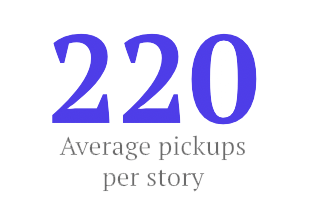 Scaling Earned Links
StudySoup wanted to scale up their link earning efforts in a way that wasn't spammy or low-quality. They knew that creating valuable content readers and publishers would respect would mean not only top-tier links but brand authority, as well, and both were critical to their organic growth.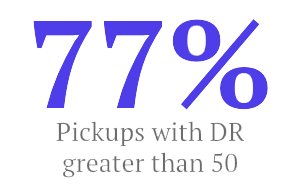 Measurable Results
Not only did our stories drive thousands of media pickups, but each story earned an average of 25 unique links as our publisher network continues to grow and diversify.

By building so many authority signals to their domain, we've helped StudySoup rank for thousands of new keywords on Page 1 and secure 200+ more results in Positions 1-3.
Explore our latest industry insights. Blog
3 Business Benefits of a Top-of-the-Funnel Media Mention
When people think about digital PR and earned media, they often think about press releases and other hard-earned, explicit references about a company or its product/service. But many marketing and PR programs stop there and miss out on the countless benefits of more organic news placements, often referred to as "top-of-the-funnel" media mentions.
Why You'll Love Working With Us
Our End-to-End Service

We ideate, create, distribute, and report on the content for you. All you have to do is review our progress along the way and watch the results roll in.
The Quality of our Method

Our company's core is our newsroom and newswire. We have high editorial standards, allowing us to build trust with respected news publishers. Everything we do is earned media, not paid media.
Our Performance Guarantee

Because our stories tend to perform quite well, we can guarantee each story we distribute will earn at least 50 pickups/links, or you won't be charged a cent.
Let's Grow Your Brand Together