We Rewired the Newswire
Our content syndication platform connects brands and news outlets.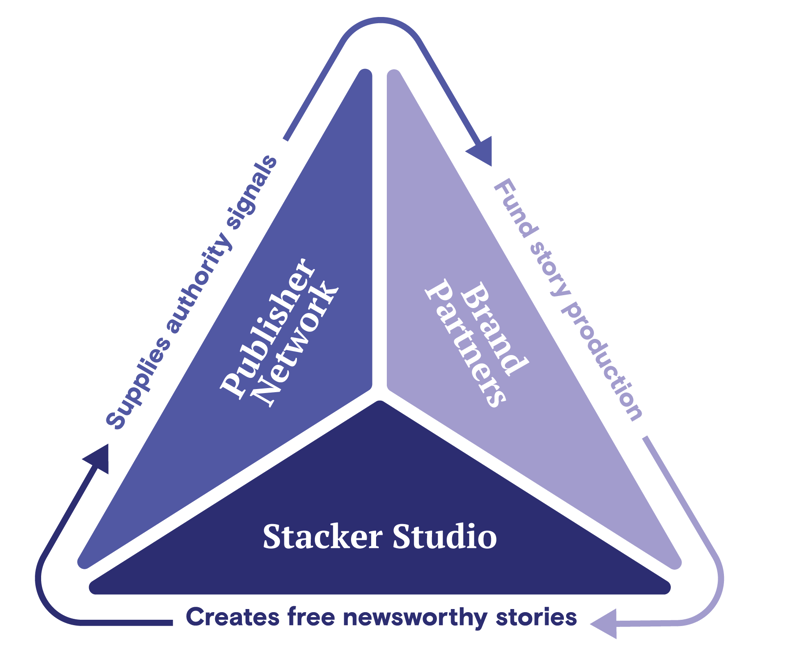 We built Stacker Studio to serve as a trusted bridge between brands and news sites. Brands fund content to earn visibility, and publishers freely pick up the stories to drive engagement, readers, and subscribers. It's a win-win.
We lead with innovative storytelling.
We identify topics that contextualize the world's news through data and original research, unveiling insights that are relevant to your industry and engaging for readers. Then, we work with your brand to brainstorm, based on our data, the stories you feel most compelled to tell.
We use data and analytics to inform every pitch.
Our team creates research-driven stories that are uniquely compelling and meet the exacting standards of our publisher network. Since our early days operating as traditional newsroom, we've expanded our service offerings and areas of expertise. Even as we've grown, we've maintained our commitment to journalistic integrity, thorough research, and editorial excellence.
We syndicate your story across our extensive network.
We distribute your story on our newswire to our network of more than 3,300 respected local and national news publications. We rely on long-term, trusted relationships with journalists rather than cold outreach and template pitches, and publishers know everything sent through our wire has the Stacker Newsroom stamp of approval.
Let's Get Started
No Pay-to-Play
We don't dabble in paid syndication, which gets little SEO value and is flagged as sponsored content.
Trusted Network
We work with 3,300+ news outlets and serve the most reputable news organizations, including MSN, Chicago Tribune, SFGATE, and more.
World-Class Newsroom
Our 25-person newsroom is run by experienced journalists and alumni from FiveThirtyEight, Time, CNN, and PBS.
Organic Placements
We're earning coverage—not buying it. Our stories appear in traditional newsfeeds and are not buried.
Quality Brand Partners
We partner with the world's top B2B and B2C brands, including ClickUp, Vivid Seats, Experian, American Home Shield, and more.
Guaranteed Results
Our expansive publisher network allows us to guarantee performance for each story we produce and distribute for our brand partners.
Data-Driven Expertise
We identify topics that contextualize the world's news through data and original research, unveiling insights that are relevant to your industry and engaging for readers. Then, we work with you to brainstorm, based on our data, the stories you feel most compelled to tell.

We also work closely with our publishing partners to gauge the kinds of stories they're most likely to publish. And with the data to back these trends, we can confidently publish stories we know will perform well.
Journalistic Integrity
We maintain strict editorial guidelines to uphold journalistic standards for our publisher partners. In turn, we're so confident in our ability to deliver widespread distribution that we guarantee at least 50 media placements per story.
Brand Visibility & Awareness
Expand your reach with credible and newsworthy content distributed to audiences nationwide. We partner with reputable brands and syndicate newsworthy stories on their behalf.
Our Success Speaks Volumes
Average number of dofollow links per story
Average domain rating across the Stacker
Average effective cost per link
Elevate Your Online Presence
Stacker Studio empowers brands to build meaningful authority by creating newsworthy features and distributing them to trusted news publishers. When respected news sites republish your Studio story, that drives powerful authority signals for both your brand and domain.
For Leaders in SEO
At Stacker Studio, we make sure your content doesn't get lost in the shuffle. With data-driven, newsworthy storytelling, you can get your message to the masses and earn unparalleled authority signals.
Earn high-quality links at scale
Accelerate outcomes of existing content strategy
Expand your in-house distribution capabilities
For Growth Marketers
Achieve the growth metrics that data-driven news stories can deliver. With a partner like Stacker Studio, you can share compelling stories to expand your brand reach and increase your rate of growth.
Increase organic traffic to your site
Become an authority in your space
Gain unprecedented brand awareness
For 21st Century PR
Amplify your brand's authority with a public relations strategy that's built to scale. We maintain strict editorial guidelines to uphold journalistic standards and ensure the best quality content for our publisher partners.
Lead top-of-funnel efforts that complement other PR efforts
Predict visibility and performance
Gain brand recognition with some of the top news sites in North America
Free Syndication
Because of our mutually beneficial relationships with more than 3,300+ publishers, we're able to freely distribute your stories. What's the result? Reputable publishers produce trustworthy content, while brands like yours continue to boost visibility on a national scale.
Performance Guarantee
We're proud of the measurable results we can achieve as your brand partner. In fact, we're so confident in our ability to do so that we guarantee 50 links per story with a domain rating of 50 or more, thanks to our performance guarantee.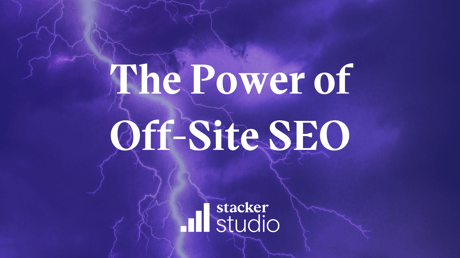 Blog Post
When it comes to organic growth, off-site SEO is the missing piece to the puzzle. But it's not just a matter of getting your brand mentioned on other sites—it's about doing it right. Earned media that provides valuable authority signals like brand mentions, follow links, and canonicals is the key to success. And although these signals are important for improving ranking in search engines, they also help build trust with customers.
Read More
"Stacker supplemented our content with well-researched copy that we wouldn't have had the ability to develop in such a short timeframe. They were an invaluable partner in expanding our content program and bolstering our SEO efforts."
Travis LeSaffre
SEO Manager
"Stacker has been a very valuable partner for our SEO efforts. Their team is a pleasure to work with and every story we have done with them has been published by several high-value publications. Also, their cost per link is the best we have seen so far."
Mike Abadi
CEO of Sunday Citizen
"Stacker has really streamlined our link-building strategy by delivering high-quality links at an affordable price. Stacker is easy to work with and brings plenty of great ideas to the table. Easily one of the best SEO vendor relationships we have."
Mariah Bliss
Senior Manager of Digital Content at Simply Business
"Working with Stacker has been fantastic. The stories written have exceeded our expectations. The team is friendly, helpful, and communicative. Most of all, our traffic has increased steadily since partnering."
Cody Eliason
COO of StudySoup
"Working with Stacker Studio has been a great experience. We continue to be impressed with the results in building our domain authority, and Stacker was an easy 'yes' to renew when it came to budget planning."
Alexis Croswell
Director of Content and Brand at Pyn
Let's Talk
Interested in connecting with the Stacker team? Reach out below and we'll get in touch.